03.03.17
PHOTOS: Capito Receives Briefing During Tour of Border Protection Agent Training Facility in Harpers Ferry
U.S. Senator Shelley Moore Capito (R-W.Va.) with Harpers Ferry Advanced Training Center Director Clark Messer, Senator John Boozman (R-Ark.) and CBP's Office of Training and Development Assistant Commissioner Chris Hall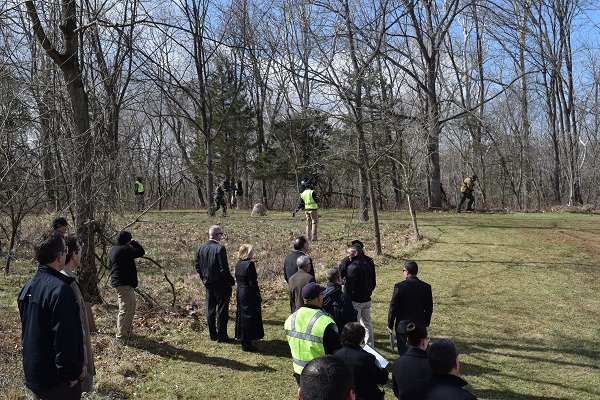 Senators Capito and Boozman observe a training exercise at CBP's Advanced Training Center in Harpers Ferry.
WASHINGTON– U.S. Senators Shelley Moore Capito (R-W.Va.) and John Boozman (R-Ark.), members of the Senate Appropriations Committee, were briefed today by Customs and Border Protection (CBP) leadership on a number of critical training programs that ensure agents can safely and professionally perform their border security mission during a tour of CBP's Advanced Training Center (ATC) at Harpers Ferry, West Virginia. Senator Capito invited Senator Boozman to West Virginia in his new role this Congress as the Chairman of the Homeland Security Subcommittee.
"It was inspiring to see the level of dedication and training the men and women of Customs and Border Protection go through to enforce our laws. From classroom training to real life scenarios, they are working diligently to perform their jobs at the highest level. I'm especially proud this facility exists in West Virginia and of the hundreds who work there," Senator Capito said.
The Harpers Ferry ATC is managed by the CBP's Office of Training and Development (OTD). It is designed to train and educate agency personnel to meet emerging homeland security challenges at our nation's borders and beyond.
###
---
---
Next Article
Previous Article