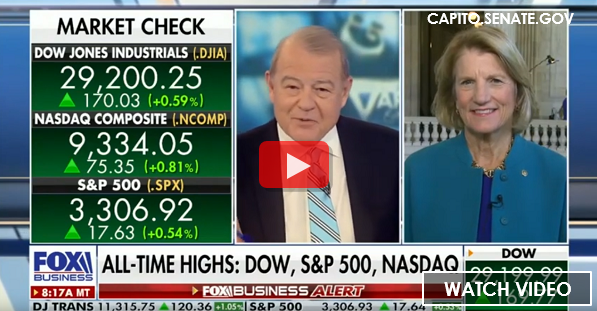 To watch the interview, click here or the image above.
WASHINGTON, D.C. – U.S. Senator Shelley Moore Capito (R-W.Va.) yesterday appeared on FOX Business' Varney & Co. with Stuart Varney to discuss the U.S.-China Phase One Trade Agreement, which President Trump signed earlier this week. Senator Capito stood alongside President Trump at the White House during the signing of the agreement.

"I think that the China signing was such a monumental occurrence. I think we are going to see this reflected in every single state, working folks, exports, and everything… I've talked to Ambassador Lighthizer several times… hardwoods is part of the agricultural product. Also, our metallurgical coal, which we export quite a bit to China… and that also has been listed as an energy product that China will be purchasing in much greater amounts. This is a good day for West Virginia, but I think it's really a great day for the country," Senator Capito said.

BACKGROUND:

Since the announcement of Chinese tariffs on American goods, Senator Capito has worked to protect jobs and the West Virginia economy, particularly the hardwood and metallurgical coal industries. Senator Capito has worked closely with Ambassador Lighthizer to ensure West Virginia priorities were addressed in the deal with China. Specifically, she encouraged Ambassador Lighthizer to include hardwoods in China's commitment to purchase $40-50 billion of U.S. agricultural products. Additionally, Senator Capito sent several letters to federal agencies, including the Office of the United States Trade Representative (USTR), United States Department of Agriculture (USDA), and Office of Management and Budget (OMB) requesting tariff relief. Senator Capito also arranged meetings between industry stakeholders and USTR representatives. 
# # #