CHARLESTON, W.Va. – U.S. Senator Shelley Moore Capito (R-W.Va.) today concluded a week of visits and events around West Virginia—including stops in Raleigh, Kanawha, Cabell, Wetzel, Wood, and Monongalia counties. Throughout the week, she met with constituents, small business owners, students, community leaders, and federal officials, focusing largely on efforts to create jobs, drive growth, and encourage development in the state.

"It was great to be back home in West Virginia to hear directly from constituents about the issues that matter to them and discuss new economic opportunities for our state," Senator Capito said. "Whether it's seeing how various communities are benefiting from ARC investments or hearing directly from employees at growing businesses of all sizes, these stories, suggestions, and ideas are so important. I look forward to taking these discussions and experiences back to Washington and continuing to deliver real solutions for West Virginians."

Senator Capito kicked off the week by hosting Appalachian Regional Commission (ARC) Federal Co-Chairman Tim Thomas for site visits and roundtable discussions to highlight recent ARC investments in the state, as well as new opportunities and challenges related to economic growth and development.

Senator Capito also toured and met with employees at Witschey's Market in New Martinsville, Hino Motors in Mineral Wells, and NextGen Federal Systems in Morgantown—celebrating several new milestones and investments. She also participated in the investiture ceremony for Tom Kleeh, having recommended him to serve as the District Judge for the Northern District of West Virginia.
Graphic design students demonstrate some of the projects they are working on at the Cabell County Career Technology Center.
Senator Capito and ARC Federal Co-Chairman Thomas discuss economic development needs and challenges with local business leaders.
Senator Capito tours the new Hino Motors facility in Mineral Wells on Wednesday.
Senator Capito delivers remarks at the grand opening of Hino West Virginia's Mineral Wells facility.
Senator Capito participates in a demonstration in the lab at NextGen Federal Systems on Thursday.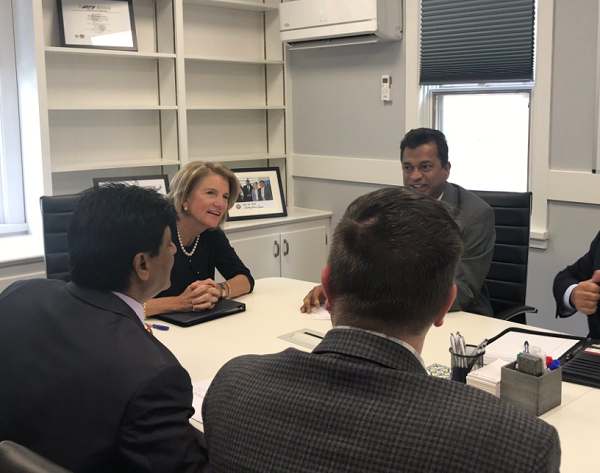 Senator Capito meets with NextGen CEO Jay Reddy and others to discuss how their business is delivering software and IT solutions for federal agencies like the Department of Defense.
# # #