CHARLESTON, W.Va. – U.S. Senator Shelley Moore Capito (R-W.Va.), Ranking Member of the Environment and Public Works (EPW) Committee and a member of the Appropriations Committee, today joined Charleston Mayor Amy Shuler Goodwin and other state and local leaders to announce the U.S. Department of Transportation (DOT) will award a $1,750,000 grant to get a transformational project in Charleston shovel-ready. Specifically, the funding will be used to upgrade approximately 3.5 miles of the Kanawha Boulevard East and approximately 0.25 miles of the adjacent Greenbrier Street corridors. The project will also plan and design bike lane extensions to the South Side Bridge and 35th Street Bridge.

Senator Capito has long-advocated for this project. In July 2021, she wrote a letter to Transportation Secretary Pete Buttigieg advocating for the city's application for this particular grant funding.

"Completing the Charleston Capital Connector project is critical to the upgrade and redesign of Kanawha Boulevard, and it's critical to joining the West Side, downtown, and East End together. But, before we get to that point, there's planning, designing, engineering, and permitting needs that have to be met first. That's exactly what this $1.75 million grant is for," Senator Capito said. "Completing this project means we are keeping pedestrians safer, increasing accessibility for bikers, improving streetscapes, and cutting down on traffic congestion. I was proud to play a role in making today possible, and I'm even more excited to see this project get started right here in our capital city."

"The City of Charleston has been actively seeking federal funding to help with key infrastructure projects in our Capital City," Mayor Goodwin said. "The Charleston Capital Connector Project will increase mobility in some of our most-trafficked areas, and better connect the West Side to Downtown and the East End, while also improving safety. We appreciate the support from our congressional delegation, the State of West Virginia, Kanawha County and many local partners. We are very fortunate in West Virginia to have two amazing United States Senators who work tirelessly to help each and every one of our communities. We are extremely thankful to both Senator Manchin and Senator Capito for their support on this project. We would not have received this amazing opportunity without their hard work."

BACKGROUND:

The City of Charleston, in partnership with the West Virginia Department of Transportation (WVDOT), will use the Rebuilding America's Infrastructure for Sustainability and Equity (RAISE) Grant for the Charleston Capital Connector Project to transform the Kanawha Boulevard corridor along the riverfront, and better connect the Greenbrier Street gateway to the community. The Capital Connector Project will enhance safety, pedestrian and bicyclist accessibility, transit access, transportation efficiency, and streetscaping along Kanawha Boulevard from Magic Island to the 35th Street Bridge. It would also upgrade Greenbrier Street from Kanawha Boulevard to Washington Street. The project also includes improved walkability and bike-ability for the Southside Bridge and 35th Street Bridge.

The City of Charleston is the only 2021 recipient in the State of West Virginia for the highly competitive U.S. DOT RAISE grant.

Photos from today's event are included below:
U.S. Senator Shelley Moore Capito (R-W.Va.) participates in the RAISE grant announcement in Charleston, W.Va. on Monday, November 22, 2021.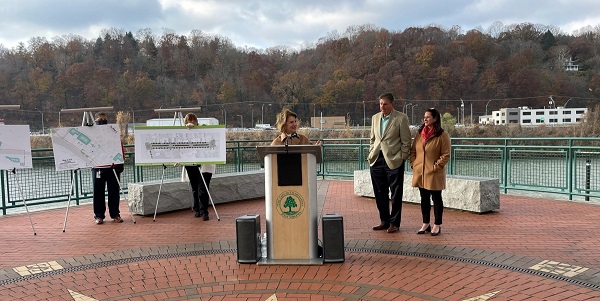 U.S. Senator Shelley Moore Capito (R-W.Va.) participates in the RAISE grant announcement in Charleston, W.Va. on Monday, November 22, 2021.
# # #