JACKSON COUNTY, W.Va. – U.S. Senator Shelley Moore Capito (R-W.Va.) today made several stops in Ripley and Ravenswood focused around economic development, infrastructure improvement, and telehealth.

"It was great to be back in Jackson County today to meet with constituents, community leaders, and health professionals," Senator Capito said. "Investing in infrastructure improvements and expanding broadband access in West Virginia are two top priorities, and today's visits highlighted the successful outcomes that can occur when we focus on these areas. Whether it's the recent federal funding the city of Ripley received to make necessary wastewater improvements or the FCC telehealth award Coplin Health Systems received to help support their telemedicine program, these are important services that impact the community immensely, and I was glad to play a role throughout the process to make these possible for the residents of Jackson County."

First, Senator Capito traveled to Ripley where she met with members of the Army Corps of Engineers' Huntington District and received an update on several projects to help spur economic development and promote safety in the region. Following this meeting, Senator Capito joined U.S. Department of Agriculture (USDA) Rural Development State Director Kris Warner, Ripley Mayor Carolyn Rader, community leaders, and others for an event highlighting the recent federal funding the city received to make necessary water and wastewater infrastructure improvements. Many of West Virginia's water and wastewater systems are in dire need of repair, and without federal funding, smaller communities like Ripley cannot afford the cost to renovate these systems. This is why Senator Capito has prioritized this issue in her role as chairman of the Senate Environment and Public Works (EPW) Transportation and Infrastructure Subcommittee.

Later in the day, Senator Capito continued her Capito Connect broadband tour with a visit to Coplin Health Systems in Ravenswood. During the visit, Senator Capito witnessed a telehealth demonstration and met with staff to discuss the importance of their telemedicine program, especially during the COVID-19 pandemic. Coplin Health Systems is a Federally Qualified Health Center (FQHC) that is deploying telemedicine services in a three county radius. Earlier this year, Senator Capito announced a grant from the Federal Communications Commission (FCC) to support these services.

Photo highlights from today's visits are included below:
Senator Capito meets with U.S. Army Corps of Engineers (USACE) Commander Colonel Jason Evers and USACE Deputy District Engineer Mike Keathley to discuss water projects in the state.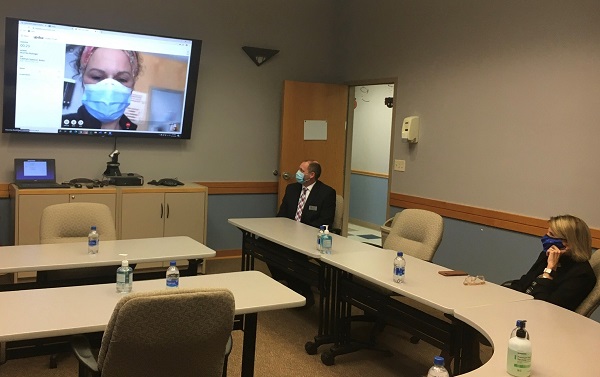 Senator Capito witnesses a telehealth demonstration at Coplin Health Systems, River Valley Family Care in Ravenswood.
Senator Capito delivers remarks in Ripley on the importance of investing in water and wastewater infrastructure improvement projects
# # #