BLUEFIELD, W.Va. – U.S. Senator Shelley Moore Capito (R-W.Va.) last night attended the Bluefield Ridge Runners' Opening Game where she threw out the first pitch. Since the news broke that West Virginia was in jeopardy of losing all four minor league affiliates, Senator Capito has worked together with each affiliate, community and civic leaders, Major League Baseball (MLB) and Minor League Baseball (MiLB), and other state and local officials to ensure baseball remains in West Virginia. At last night's game, Senator Capito was joined by community leaders, as well as senior executives from the MLB, the Appalachian League, and USA Baseball. The Bluefield Ridge Runners were formerly known as the Bluefield Blue Jays.

"Baseball is such an important aspect to the culture and community of our state, making last night's return to Bluefield all the more special," Senator Capito said. "Cities like Bluefield have so much to offer, and the addition of the Ridge Runners adds to the rich baseball tradition in southern West Virginia. I'm honored to play a role in continuing America's pastime in Mercer County, and look forward to many Ridge Runners victories for years to come."

BACKGROUND:

In October 2019, Baseball America first reported that a potential contraction of Minor League Baseball affiliates was being considered. The New York Times subsequently published a list a few weeks later indicating three of West Virginia's four affiliates were on the cut list, and there was no guarantee for the fourth. This meant that Morgantown, Charleston, Bluefield, and Princeton would be the home of empty ballparks and local communities would be left without baseball for the 2021 season.

From the very start, Senator Capito had conversations with each affiliate, community and civic leaders, MLB and MiLB, and her colleagues. After letters and legislation, numerous calls, and close collaboration, baseball is officially being played in all four West Virginia cities this season.

Last week, Senator Capito threw out the first pitch at the West Virginia Power's season opening game in Charleston.

To read Senator Capito's full statement on the new format for the Appalachian League, which includes Bluefield and Princeton teams, click here.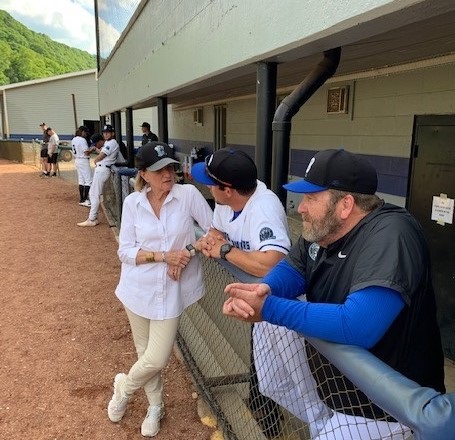 U.S. Senator Shelley Moore Capito (R-W.Va.) talks with a Bluefield Ridge Runner player before throwing out the first pitch at the season opener in Bluefield, W.Va. on Saturday, June 5, 2021. Video of the pitch can be found here.
# # #