WASHINGTON, D.C. — U.S. Senator Shelley Moore Capito (R-W.Va.), chairman of the U.S. Senate Environment and Public Works (EPW) Committee's Clean Air and Nuclear Safety Subcommittee, today presided over a hearing examining several pieces of legislation—including a bill she introduced to provide regulatory relief to wood and pellet heater manufacturers. The bipartisan legislation (S. 1857) would delay implementation of new Environmental Protection Agency (EPA) performance standards by three years to allow manufactures the time they need to comply.

Today's hearing also focused on three other regulatory relief bills: the Recognizing the Protection of Motorsports (RPM) Act of 2017 (S. 203), the Blocking Regulatory Interference from Closing Kilns Act of 2017 (S. 839) and the Alaska Remote Generator Reliability and Protection Act (S. 1934).

"The four bills being considered by the committee today are narrowly targeted to simply and easily provide regulatory relief and certainty for industries that will unnecessarily suffer outsized costs from EPA rules and actions," Senator Capito said during her opening remarks. "[The] companies affected aren't huge multinationals, but American family businesses across the country, their workers and their customers."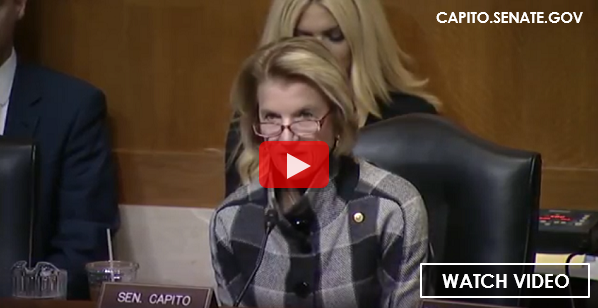 For a video of Senator Capito's opening remarks, click here or on the image above. A PDF is available here.

For a video of Senator Capito discussing with witnesses the need for regulatory relief legislation, click here.

More information on the hearing, witness testimony and an archived webcast are available here.
# # #