07.10.19
VIDEO: Capito Discusses Efforts to Lower Prescription Drug Costs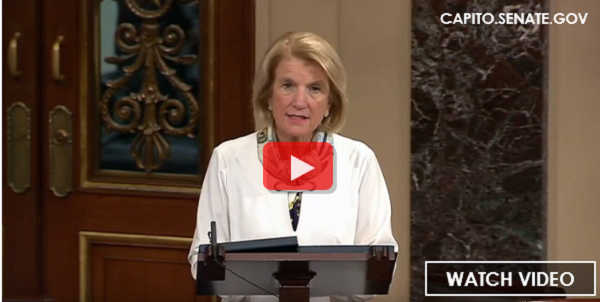 WASHINGTON, D.C. – U.S. Senator Shelley Moore Capito (R-W.Va.) today spoke on the Senate floor to highlight ways that she and colleagues are working to lower prescription drug costs and why those efforts are so important to West Virginians.

"[West Virginia has] some of the highest rates in the nation for heart disease, diabetes, cardiovascular disease, cancer, and arthritis; and while there are many non-pharmaceutical steps people are taking to prevent, for many, their prescription medicine is the difference between wellness and illness or even between life and death," Senator Capito said. "That's why it is so important that West Virginians are able to secure their medications and that we, as a Congress, make sure that they are not paying too much for those medications."

Several of the solutions Senator Capito discussed include:
The Ensuring Seniors Access to Local Pharmacies Act, which would provide individuals on Medicare Part D more flexibility to choose pharmacies in their communities without paying additional costs. Senators Capito and Sherrod Brown (D-Ohio) introduced this legislation last Congress and plan to reintroduce it soon.
The Patient Right to Know Drug Prices Act, which banned the use of "gag clauses" that prevented pharmacists from proactively telling consumers that their prescriptions could cost less if they paid out of pocket rather than through their insurance. Senator Capito cosponsored this legislation last year, and President Trump signed it into law in October.
Efforts to reform the application of pharmacy price concessions—also known as direct and indirect remuneration or DIR fees—in the Medicare Part D program to improve transparency and accuracy.
For a video of Senator Capito's remarks, click here.
# # #
---
---
Next Article
Previous Article