11.21.19
VIDEO: Capito Stresses Urgency in Passing Bipartisan American Miners Act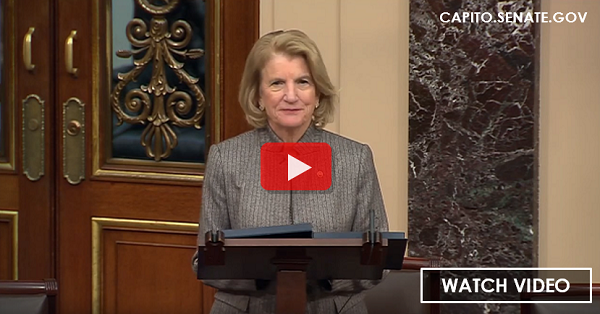 WASHINGTON, D.C. – U.S. Senator Shelley Moore Capito (R-W.Va.) today spoke on the Senate floor to underscore the importance of passing the Bipartisan American Miners Act, legislation she introduced with Senate Majority Leader Mitch McConnell (R-W.Va.) and Joe Manchin (D-W.Va.) earlier this month. Specifically, the bill would secure our nation's retired miners pensions by shoring up the 1974 Pension Plan and ensure that the miners who are at risk due to 2018 and 2019 coal company bankruptcies will not lose their health care.

"Protecting these benefits is a top priority for me because it impacts so many mining families and communities in West Virginia," Senator Capito said during her Senate floor speech. "But I think it's important to understand that this bill does not place other policy items in jeopardy. Passing this bill does not disturb the principle balance of the AML trust fund. That means we are not jeopardizing funds that are used to clean up abandoned mine sites…The pension benefits of all the men and women who are at risk if Congress fails to act. The average benefit is $590 a month. These are not lavish benefits, but they are critical to our retirees."

Click here or the image above to watch the full floor speech.

The Bipartisan American Miners Act of 2019 will amend the Surface Mining Control and Reclamation Act of 1977 to transfer funds in excess of the amounts needed to meet existing obligations under the Abandoned Mine Land fund to the 1974 Pension Plan to prevent its insolvency. It will also amend the Coal Act to include 2018 and 2019 bankruptcies in the miners' healthcare fix that passed in 2017. These actions will secure the pensions of 92,000 coal miners and protect health care benefits for 15,000 miners and their healthcare.

The Bipartisan American Miners Act of 2019 is also co-sponsored by Senators Rob Portman (R-Ohio), Doug Jones (D-Ala.), Tim Kaine (D-Va.), Tammy Duckworth (D-Ill.), Sherrod Brown (D-Ohio), Bob Casey (D-Penn.), and Dick Durbin (D-Ill.), Mark Warner (D-Va.), Kyrsten Sinema (D-Ariz.), Chris Van Hollen (D-Md.), and Jack Reed (D-R.I.).
# # #
---
---
Next Article
Previous Article