WASHINGTON, D.C. – U.S. Senator Shelley Moore Capito (R-W.Va.), a member of the Senate Appropriations Committee, this week participated in four Appropriations subcommittee hearings, continuing to advocate for West Virginia priorities in conversations with Trump administration officials.

At her direction, Senator Capito yesterday chaired a Homeland Security Subcommittee hearing on the Department of Homeland Security's (DHS) efforts to prevent opioids and other dangerous drugs from flowing into the United States. During the hearing, she spoke with a panel of witnesses from agencies within the DHS on a range of issues—including the ways opioids are getting across our borders, how they are harming communities in West Virginia, and strategies for fighting the growing drug crisis. Click here or the image below to see the discussion.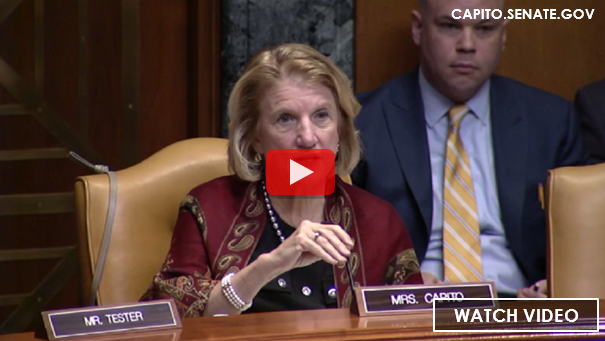 Senator Capito also participated in two additional Appropriations subcommittee hearings yesterday. At an Interior, Environment, and Related Agencies Subcommittee hearing, she questioned Environmental Protection Agency Administrator Scott Pruitt about the agency's plans to replace the Clean Power Plan and encouraged him to release a recent report on drinking water contamination standards. Click here or the image below to watch Senator Capito's questioning.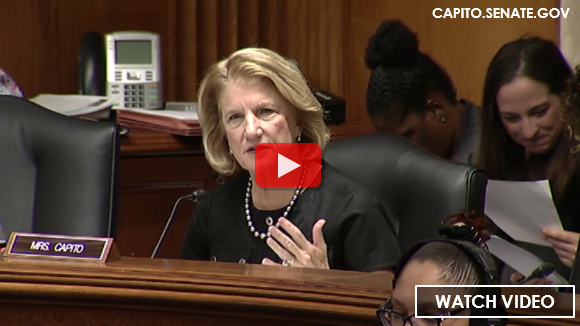 Later, at a Commerce, Justice, Science, and Related Agencies Subcommittee hearing, Senator Capito spoke with Federal Bureau of Investigation (FBI) Director Christopher Wray regarding joint efforts between the FBI and local law enforcement to apprehend criminals, such as Operation Saigon Sunset in Huntington, and the potential to bring jobs to West Virginia with the FBI facility in Fairmont. Click here or the image below to view their exchange.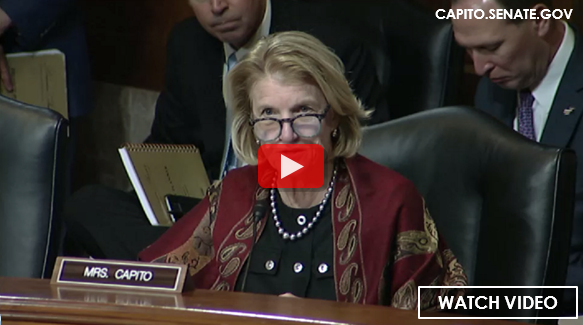 Today, Senator Capito participated in a Labor, Health and Human Services, Education, and Related Agencies Subcommittee hearing that featured a panel of witnesses from the National Institutes of Health (NIH). At the hearing she asked a number of questions regarding funding for the fight against the opioid epidemic, childhood cancer research, and clinical trials for those suffering with Alzheimer's. Click here or the image below to watch.


# # #