WASHINGTON, D.C. – U.S. Senator Shelley Moore Capito (R-W.Va.) issued the following statement after today's vote on the motion to invoke cloture on the Iran Nuclear Agreement Resolution of Disapproval. The motion was not agreed to on a 58-42 vote preventing the Senate from taking an up-or-down vote on the resolution of disapproval. The Senate is expected to reconsider the cloture motion next Tuesday. If the cloture motion is agreed to, the Senate could then proceed to an up-or-down vote on the resolution of disapproval. 60 votes are required to invoke cloture.
"This historic debate should be focused on the substance of the president's agreement with Iran, including whether the deal will make America safer and prevent Iran from obtaining a nuclear weapon. In May, Congress passed the Iran Nuclear Agreement Review Act of 2015 on a 98-1 vote. This critically important legislation provides Congress, as the representatives of the American people, the ability to examine and vote on an agreement that will have a tremendous impact on the future security of the United States and the world," said Senator Capito. "It is very disappointing that some members have now reversed their positions, keeping the Senate from a vote on this consequential agreement. A foreign policy decision of this magnitude deserves a vote."
Shortly after the vote, Senator Capito expressed her opposition to the president's agreement with Iran on the floor of the U.S. Senate. Click on the image below to watch the full video of her speech.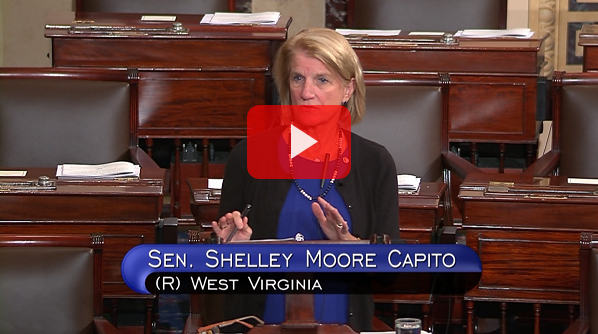 Remarks as prepared for delivery:
"Thank you, Mr. President –
"This week, the Senate has been debating the Joint Comprehensive Plan of Action between the United States, other world powers and Iran.

"I believe that this debate should center around three key questions.

"Will this agreement eliminate Iran's path to a nuclear weapon?

"Will it improve the security situation in the Middle East?

"Will it make America safer?

"Unfortunately, after much study, I have concluded that the answer is no to all of these questions.

"I do not believe that the president's agreement will make America or our allies safer. To the contrary, the agreement will provide Iran with the resources to continue to finance terror across the Middle East.

"Even if Iran were to comply with this agreement in full, this deal virtually guarantees that Iran will become a nuclear threshold state with an industrial nuclear program that has been legitimized by the United States and the world.

"Iran is the world's largest state sponsor of terrorism. The windfall of cash that will flow to Iran – the signing bonus and the continuing impact of sanctions relief under this deal – will only increase its ability to prop up the Syrian regime, finance Hezbollah and threaten American allies like Israel.

"Past behavior is a great predictor of future actions.  Even as its own economy was hampered by international sanctions, Iran has continued to make financing terror a priority.  When more financial resources become available, there is every reason to believe that Iran's ability to embolden terrorism in the Middle East will be strengthened.

"National Security Advisor Susan Rice agrees that 'we should expect that some portion of that money would go to the Iranian military and could potentially be used for the kinds of bad behavior that we have seen in the region up until now.'

"The president and the Secretary of State have said that sanctions will snap back into place if Iran violates this agreement.

"We know that the current sanctions against Iran cannot be easily snapped back into place. It took more than a decade for the United States, working with our European allies, to construct the sanctions that brought Iran to the negotiating table. This type of effective sanctions regime cannot be brought back overnight. Without the credible threat of effective sanctions, the United States will be left with little leverage to ensure Iran's compliance with this agreement.

"On another note, we need to examine the end of the international restrictions on selling ballistic missile technology to Iran and the end of the conventional arms embargo contained in this agreement.

"The Chairman of the Joint Chiefs of Staff told the Senate Armed Services Committee in July that 'under no circumstances should we relieve pressure on Iran relative to ballistic missile capabilities and arms trafficking.'

"The administration rejected this advice.

"The president's agreement would remove all international limitations on Iran's missile program in eight years – contradicting earlier promises from the administration that restrictions would remain in place.

"Ballistic missiles are not a necessary component of a peaceful nuclear program; Iran's continued efforts to improve this technology should send a clear message to this chamber about their intentions.

"In addition, the arms embargo on conventional arms will be lifted in five years.

"Indeed, Iran's President said last month 'we will buy, sell and develop any weapons we need and we will not ask permission or abide by any resolution for that.'

"The end of the arms embargo and the ballistic missile restrictions will strengthen Iran's ability to threaten Americans and our allies in the Middle East.

"The president's agreement does not contain the necessary enforcement measures to protect future generations from a nuclear Iran.

"Any agreement worthy of congressional approval should include rigorous, immediate inspections of suspected nuclear sites.

"Senior administration officials publicly called for anywhere, anytime inspections. Yet, the president's agreement fails to live up to this standard. Instead, Iran can block access to suspected nuclear facilities for 24 days or even longer.

"We have not seen all of the side agreements that are a part of the deal.

"We still do not know what is contained in the agreement between Iran and the IAEA regarding the inspection of sites with possible military dimensions.

"I already envision a scenario where one year from now, these agreements trickle out. What would the reaction be?

"Finally, those who support ratifying the Iran agreement frequently argue that the only alternative is war.

"I disagree.

"Under that false misguided premise, the American people are being told we should simply accept any deal, regardless of how flawed it may be.

"When asked if our only option was this agreement or war, the Chairman of the Joint Chiefs of Staff said that 'we have a range of options.'

"The president's agreement does not live up to the administration's prior statements on important items like inspections, elimination of advanced centrifuges, and ballistic missiles.

"A better agreement with Iran could be forged from the positions taken by senior administration officials during the course of negotiations.

"A better deal is possible, and the American people should accept nothing less.

"Some argue that we should approve this deal, despite its faults, and then use the threat of separate legislation or tough talk to keep Iran in check.

"The better course is for the Senate to reject this agreement and reopen negotiations.

"The sanctions passed by Congress forced Iran to the negotiating table in the first place.

"And I believe that stronger sanctions can force Iran to accept a better agreement that will improve the security of the Middle East and the world.

"The danger to the United States, Israel and other American allies posed by Iran is real. As the current refugee crisis and prior acts of terror clearly demonstrate, instability and violence in the Middle East reverberates into other parts of the world.

"I do not believe that the president's agreement reduces the threat of violence or adds to the stability of the region.

"Instead, the agreement will strengthen Iran's position and leave the United States with fewer ways to combat nuclear proliferation.

"For those reasons, I will vote to reject the president's nuclear agreement with Iran."
###