CHARLESTON, W.Va. – U.S. Senator Shelley Moore Capito (R-W.Va.) today concluded a productive week in West Virginia—which included stops in Gilmer, Calhoun, Kanawha, Cabell, and Harrison counties. Throughout the week, she visited with constituents, small business owners, teachers, students, and community leaders.

"It was great to be back home in West Virginia to hear directly from constituents about the issues that matter to them and discuss new economic opportunities for our state," Senator Capito said. "Whether it's learning how tax reform is helping our families and small businesses or how the next generation of West Virginians can play a role in creating drug-free communities, these stories, suggestions, and ideas are so important. I look forward to taking these discussions and experiences back to Washington and continuing to deliver real solutions for West Virginians."

During the week, Senator Capito had the chance to witness how the Tax Cuts and Jobs Act is positively affecting local businesses, families, and economies. She also hosted Librarian of Congress Dr. Carla Hayden for visits to universities and libraries.

Senator Capito concluded the week today in Harrison County, where she attended the grand opening of the Biometrics Technology Center—a project she has advocated for as a member of the Appropriations Committee—and toured the Grand Robinson Theater to see how the New Markets Tax Credit program is helping to provide the resources necessary to revitalize historic sites such as this one.

Photos from the visits are available below and can be downloaded here.
Senator Capito and Librarian of Congress Dr. Carla Hayden read to a group of preschoolers at the Kanawha County Public Library on Thursday.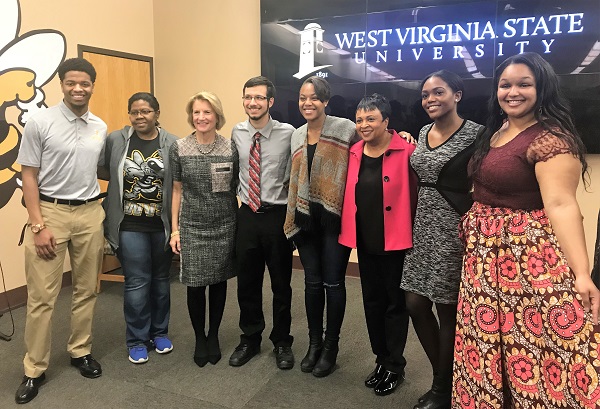 Senator Capito and Dr. Hayden met with students at West Virginia State University.
Senator Capito met a Huntington resident who shared his inspiring story of overcoming addiction.
Senator Capito met employees of Flying W Plastics in Gilmer County, where she toured the facility and discussed how tax reform is positively affecting their business.
Senator Capito and Congressman Evan Jenkins lead a small business roundtable discussion on tax reform with members of the Huntington Chamber of Commerce.
 On Wednesday, Senator Capito spoke to a group of John Adams Middle School students about the importance of living a drug-free life. 
Senator Capito spoke at the grand opening of the Biometrics Technology Center in Clarksburg.
Clarksburg City Manager Martin Howe toured Senator Capito around the historic Robinson Grand Theater - one of several revitalization projects in downtown Clarksburg.
# # #